15 Inch Tablets are Coming This Fall
Posted on April 4th, 2014
Will it help manufacturers extend their Materials Resource Planning (MRP) to the factory floor?
Remember when Microsoft announced its 80″ touchscreen appliance in summer 2012? Now these touchscreens are mainstream on almost all major news stations in the country. That was two years ago!
Early in 2013 we were reading headlines like "Large-Screen Tablets are the Next Big Thing". At the time, they were touting the upcoming 12″ class of tablet hitting the market. But Dell joined the conversation, announcing the  XPS 18″ All-in-One Desktop computer. At less than 5 pounds, it could be carried around the home, office, factory floor, or meeting to meeting like a desktop on-the-go. Since Windows 8.1 was released, the ratings on Best Buy's website for the Dell's XPS 18″ have been very high demonstrating that those who took the plunge are happy with more screen in their lap.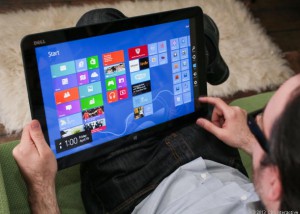 Now we are starting to hear Christmas 2014 could be the season of the large tablet wars, and it's beginning to sound like the 15″-16″ screens will be the battleground.  Sharp is selling its 15.6″ tablet in Japan with a High Definition display, a 2.7-pound weight, and – hold your breath – a nine hour battery life. No doubt other tablet manufacturers are in hot pursuit to match this performance.
Any tablet manufacturer who is willing to produce a large tablet like this with the quality and functionality of Microsoft's Surface will influence the development of how mobile computing impacts business operations worldwide. We know our clients would benefit from walking the factory floor with a tablet large enough to do real work like Production Posting, Material Requisition, or Cycle Counts. Let's call it "Mobile Manufacturing Execution" to add to the manufacturing lexicon.
The ABW development team is constructing touch friendly modules to our MRP product with these 15″ tablets in mind. Will the hardware keep pace with needs and expectations? We are about to find out.
---